The traditional portfolio mix of heavy hardware-orientation with associated software is transitioning to application and non-control software. The move to solutions combining hardware, software, and services is real.
The Next Big Thing in Manufacturing: XaaS to Boost Productivity and Revenue
Article from | Nikhil Chauhan
Manufacturing is lines software driven, blurring between the physical world of machines and the cyber world of data. The traditional portfolio mix of heavy hardware-orientation with associated software is transitioning to application and non-control software. The move to solutions combining hardware, software, and services is real.
Consider a heavy-duty manufacturing robot, massive earth-moving machine, or a miniscule pacemaker – these systems is more than just about delivering big-muscle strength, power or mechanical prowess. With software-driven sensors embedded in them, they now operate at the intelligent edge, making them part of the digital information flow.
The industrial and manufacturing sectors are focused on building the foundational capabilities of intelligent systems, rendered urgent by the proliferation of more mass customization as well as the need to substitute or enhance human labor due to the aftereffects of COVID-19.
In my conversations with industrial equipment manufacturers and suppliers, an average of 95% of software engineers focus on applications versus underlying platforms and tools. Sitting at the higher layers of the technology stacksoftware offers more attractive margins and differentiation opportunities—starting with the product-as-a-service model.
According to Manufacturers Alliance, nearly one in three manufacturers is deploying a products-as-a-service IoT model, where the company remotely monitors data from and about the product and sells analysis of data for the customer in the form of alerts, performance data , maintenance, and more. It is exciting to witness the positive impact of the software-driven approach, especially in mission-critical industries such as industrial manufacturing.
There is big potential here. Per McKinsey, successful technology enablement can unlock up to $2 trillion for the industries.
Selling One-Off Products will become Outdated
Traditionally, the industrial equipment suppliers have sold hardware as one-off products, which entails a significant upfront Capex for their customers (automotive manufacturers, semiconductor foundries/fabs or aerospace manufacturers, etc.). But this way of selling, and purchasing, industrial equipment is no longer an optimal solution for either side of the transaction.
With the advent of software-driven intelligent systems, manufacturing supply chains are becoming more agile and smart, and are quickly transforming into autonomous, self-learning and interoperable ecosystems. In this environment, equipment operators need more customization of operational environments, as well aslier data-driven insights assets from their heterogeneous and complex operations. For them, it is about outcomes related to productivity, equipment availability and lifespan, limiting or eradicating unplanned downtime, decreasing operational expenditure and service cost, and ensuring safety and a faster time to market.
On their side, suppliers are facing these new software-driven expectations from their customers, on top of challenges around intensifying global competition, increasing hardware commoditization, rationalizing offering portfolios, and talent issues.
Like in other industries, data, in this case generated by intelligent systems embedded in the machines, is key for monetization. Among some of the data-driven business models in manufacturing are services that can be delivered thanks to intelligent software systems, such as product performance monitoring, data analysis diagnostics from the manufacturer or IoT-driven field services.
These intelligent systems are enabling the transaction shift towards outcome-based software and services, precipitating the move from a one-time business model to an Anything-as-a-Service (XaaS) delivery model.
The Power of Anything-as-a-Service, Or XaaS
XaaS, or anything-as-a-service, is the delivery model of a hardware, software, and/or services offering. The offering is owned, delivered and managed by a supplier. The supplier provides the customers the ability to consume the offering on a pay-for-use basis or by a subscription based on use metrics.
Industry 4.0 and Industrial IoT technologies enable the XaaS model by supporting capabilities such as telemetry and digital feedback for asset usage and performance, turning sensor and exogenous data into insights, and frequent over-the-air updates via super-fast networks. These capabilities power outcome-based services, provide crucial operational insights, and give transparency into equipment, machine, or asset usage.
"Power-by-the-Hour" is a well-known monetization example of XaaS. Invented by Rolls-Royce in 1962 to support their Viper engine on the de Havilland/Hawker Siddeley 125 business jet, it is a complete engine and accessory replacement service offered on a fixed-cost-per-flying-hour basis. It aligned the interests of the manufacturer and operator, who paid only for engines that performed well. Similar customer-focused business model reconfigurations are evident across different verticals.
The "X" in XaaS can be many different things, including:
Technology—infrastructure, platform, software.
Medical device—MRI, radiosurgery, cardiac rhythm monitoring.
Machinery and factory system—robot, control system.
Utilities system—digital substation, advanced distribution management system.
Heavy assets—semiconductor lithography equipment, gas turbine, aviation engine, mining truck.
Operations—factory, city, grid, hospital.
Societal goals – sustainability
Getting Started With Business Model Evolution to XaaS
If you are rethinking business models and evaluating delivery models of EaaS (Equipment-as-a-Service), RaaS (Robots-as-a-Service), MaaS (Machines-as-a-Service) or any other permutation, then understanding the basics of business model reinvention and assembling the right operating model is table stakes. The following four-step framework will help you design your XaaS models:
Gain more insights into the outcomes that matter to your customers and their customers. Are your customers open to discussing performance as a shared and continuous responsibility? If yes, that is a promising start.
Understand which data from your products/operations and the ancillary equipment around them can be collected and used to give outcome-driven insights and improve performance for your customers. That becomes the control point for the offering.
suitable key performance indicators (KPIs) to track, measure and identify the value.
Using the unique value, drive the revenue model for the XaaS offering. Test a minimum viable XaaS offering, deliver promised value, and scale.
Using the above framework to implement your XaaS models will help align your software-driven capabilities with your customers' needs and expectations amid fast-changing customer and supplier environments. It will make you more competitive, as you will be able to deliver the outcomes that provide your customers with measurable business value, and it will lead to close integration with your customer as you share responsibility and innovate together.
The content & opinions in this article are the author's and do not necessarily represent the views of RoboticsTomorrow
---
Comments (0)
This post does not have any comments. Be the first to leave a comment below.
---
Post A Comment
You must be logged in before you can post a comment. Login now.
Featured Product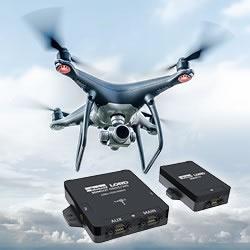 Parker LORD MicroStrain Sensing System
The new complete inertial navigation solution comes with GNSS/INS 3DMGQ7 sensor, 3DMRTK correction modem and real time SensorCloud RTK correction network. The sensor comes with Dual antenna GNSS, tactical grade IMU with centimeter-level accuracy with RTK. Low profile and light weight at 78 grams, this sensor is The sensor is optimized for size and weight in Unmanned Ground Vehicles, mobile robots and autonomous vehicles. The network interface 3DMRTK modem is seamlessly integrated into the 3DMGQ7 sensor supports industry-standard NMEA and RTCM 3.1 protocols. The network RTK support comes with cellular data plan. The SensorCloud RTK is a cloud-based RTK correction system with private encrypted data stream. Check out our G Series and C Series OEM products.
.