On the second day of the eighth OwnerView Conference, presented by The Jockey Club and Thoroughbred Owners and Breeders Association, communication emerged as a theme in panel discussions about ownership partnerships and owner-trainer relationships.
Held at Saratoga Race Course July 26, the program opened with two "next generation" panels: one featuring people who have followed adult relatives into the Thoroughbred business, the other jockeys in their 20s. Following a keynote address by Stacie Clark Rogers, operations consultant for the Thoroughbred Aftercare Alliance, the conference closed with owners and trainers talking about their business plans, practices, and success.
Len Green owns Thoroughbreds and founded The Green Group, a New Jersey-based financial services firm. He has written and presented on how owners can take advantage of tax rules that are advantageous to them. He emphasized the need for a solid business plan.
"If you're buying a racehorse, you've obviously been successful at something," he said. "Did you go into that thing without knowing anything about it? You've got to have a game plan, you want to be active in your business, and you want to have a plan that's flexible."
Rhodes College economics professor Marshall Gramm co-founded Ten Strike Racing with Clay Sanders with a specific goal: to win races at Oaklawn Park.
Sign up for BloodHorse Daily
Marshall Gramm
"You've got to find your niche," Gramm said. "I'm a horseplayer, and my niche is long dirt races. So we look for dirt horses. Some of the best I learned as an owner was through betting. Play the races; that's the best education out there."
Phillip Shelton manages Taylor Made Farm's Medallion Racing partnership, which buys fillies exclusively because of their future residual value as broodmares.
All of the panelists urged owners and managing partners to be clear in their communication with partners. Russ Sapienza, a co-owner and senior adviser in Taste of Victory Stables, against business with a handshake agreement.
"When you're about to write a $30,000 check, does a handshake really work?" he asked rhetorically. "Ask for something in writing. We send out a document so that partners can read about every step of their capital investment."
Panelists also emphasize the value of partnerships in sharing financial risks and educating first-time owners.
"There are a lot of risks in this game, financial and emotional risks," Sapienza said. "Partnerships let you dip a toe in and manage some of those risks."
The conference closed with a panel featuring trainer David Donk and former trainer Buff Bradley sharing the stage with bloodstock agent Marette Farrell, and Michelle Borisenok and Michael Devlin, who manage racing partnerships.
Asked about the importance of trainer statistics when choosing where to place your horses, Farrell said, "Statistics can be a good way of assessing a trainer, but we all know trainers that develop horses, and owners need to be aware of that. have an individual program for each horse, and statistics aren't as important as getting the best out of each horse."
Borisenok founded Brown Road Racing to help women learn about the Thoroughbred industry. "For us, it's about the experience," she said. "It's not as much about winning. We want a trainer who will educate us, and the passion that comes with that means that we do eventually wind up in the winner's circle."
Devlin is the founder and managing partner for Curragh Stables, and for his group, those percentages can matter.
"They're a great tool, and we want the trainer's in-the-money percentage to be up there," he said.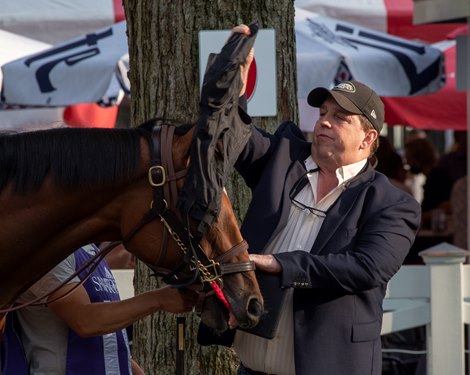 David Donk
Donk said owners should consider their goals when seeking a trainer.
"Do you want to own 2-year-olds? Claiming horses? How much risk can you take on?" he said. "One of the biggest pressures at Saratoga is that a lot of people want to get in the winner's circle, and some people will pay 10 to make 1. Can you look at it a little more economically and do right by the horse?"
Both Donk and Bradley focused on intangibles in the owner-trainer relationship.
"Go to the barn," Bradley said. "What's the mood there? How is the help treated? Are the horses at the front of the stall? Hang out and watch to see how the stable is run."
"Look at the trainer's work ethic," Donk added. "Is the trainer happy? Do they love what they're doing? My alarm goes off at 4:20 every morning, and being at the barn at 5:30 is the best part of the day."
In her keynote address, Clark Rogers traced the evolution of Thoroughbred aftercare from the early '80s to the present, giving examples of how retired Thoroughbreds can find second careers, including in the show ring, in corrective facility vocational programs, and in equine therapy programs .
.