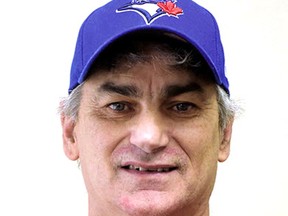 Article content
A couple of big events coming up for a pair of Tillsonburg area ball teams this week.
Article content
The Tillsonburg Old Sox will be competing in the 2022 Canadian National Oldtimers Baseball Championships in Halifax, Nova Scotia.
They will start their quest on Friday, July 29 at 9:30 am and 2 pm Their third game is at 11:30 am the next day.
Local slo-pitchers Adam Thomson, Scott Balazs, Tyler Lamb, Shawn Finch, Aaron Guegen and Trevor Oakes are on the team, which is run by Thomson, Lamb and Chris DeClark.
Thomson says he had to literally reach out to over 50 guys to fill the team with players from all over Ontario. The squad features four ex-Inter-County players and a Yankees draft pick. Matt Summers and Scott Hill will be helping out as base coaches. Best of luck to the guys!
Fans and supporters can follow their progress on their Facebook page where Thomson will update scores and results from the tournament.
Just one province away another local team, this time in slo-pitch, will be competing in the SPN Nationals in St John's, Newfoundland. The Honeybadgers, which features 10 players from the Collins Harbor Marina team, two from Country Sports Jays, and two from Foldens Machine Works, will be vying for the Ladies Masters Intermediate crown – a team which I will be coaching. The team really appreciated the support they received from the community and would like to recognize Tyler VanLeeuwen from Ontario Laser Cutting for his business's donation.
The Pure Sports Pandas, featuring Josh Stubbs and Darren Pace from the BackCountry 4×4 Tillsonburg team, and Kevin Harrop, a member of Haines Roofing, won the Men's B SPO Provincial Championship this past weekend at Slo-Pitch City. They were the favorites going in as they had won two events, finishing second in one and third in another. They capped off their season going undefeated in the Provincials.
Article content
Men's A
Ward's Automotive may be out of the top four but they are causing havoc for teams in those top A Division slots. They upgraded second place Courtland Landscape and Grounds and defeated Haines Roofing last week. They also dropped one to BackCountry 4×4, who were easily handled by the surging GC Lounsbury squad on Friday night.
Chaos also contributed to Courtland's winless week beating them by four.
GC Lounsbury 21, BackCountry 4×4 9
GC: Greg Onaitis 3-3, Justin Miller 3-4, Cheyne Sarafinchin HR, Alex Penders 2HR, Chris Hoffman HR
BackCountry: Darren Pace 3-4, Tim Morgan 3-4, Clayt Stubbs HR, Josh Stubbs HR, Bryan Deblaire HR
The game was actually tied after three complete. GC started their onslaught putting seven across in the fourth, followed by five more their next at-bat. Alex Penders led with a pair of homers and five runs batted in.
Chaos 22, Courtland Landscape and Grounds 18
Chaos: Randy Miller 4-4, RJ ​​Peters 4-4, Alex Dalby HR, Dave Phipps HR, Matt Richardson 2HR, Matt Ungar 2HR
Courtland: Kieran Taylor 4-4, Adam Thomson HR, Scott Balazs 4-5, Tyler Lamb HR, Aaron Laporte 2HR, Brooks Scharr HR, Nathan Peacock HR
RJ Peters doubled twice, tripled twice and scored four runs for Chaos. Randy Miller doubled twice and scored four runs.
Ward's Automotive 26, Haines Roofing 19
Ward's: Connor Smith 4-5 HR, Brett Parsons 3-3 HR, Brandon Velda 2HR, Brayden Rodgers HR, Kyle Hollister 2HR
Haines: Dave Phillips 3-4 2HR, Dan Clark 4-4 2HR, Chris Durham 2HR, Kevin Harrop HR
Article content
Both teams hit their limit of homers. Connor Smith helped his own cause by homering and scoring four runs, Brandon Velda homered twice and scored four runs, and both were a triple shy of hitting for the cycle.
Ward's Automotive 13, Courtland Landscape and Grounds 7
Ward's: Brayden Rodgers 3-4, Connor Smith 3-4, Chad Ingalls HR
Courtland: Blair Davidson 4-5, Brooks Scharr 4-5
Courtland couldn't seem to recover from giving up six third-inning runs. Connor smith had a two-run triple in the rally for the winners.
BackCountry 4×4 22, Ward's Automotive 12
BackCountry: Bryan Deblaire 5-5 3HR, Bob Evans 4-5 2HR, Mike Wencel HR, Darren Pace HR
Ward's: Gus Ford 4-5, Brandon Velda 5-5 HR, Kyle Hollister HR
BackCountry trailed 8-2 after the third inning. They got their offence going from then on with Bryan Deblaire being the catalyst homering in each of his final three at-bats.
Men's B
Smitty's Electrical are the hot team in the B looptest a stellar three win week. They beat Flippin Mike's, Pelicans and won a thriller walking it off against first place Hit N Run after mounting a big comeback.
Hit N Run took that loss out on their next opponent mercying Flippin Mike's. Mike's won once on the week beating Team Awesome for the third consecutive time.
Smitty's Electrical 15, Flippin Mike's 7
Smitty's: Chris Haas 3-3, Adam Smith 3-3, Jesse Legg HR, Christian Bevan 2HR
Flippin Mike's: Christian Devlin 3-4, Craig Robb 2-3
A big seven-run second keyed Smitty's win. Christian Bevan homered in two consecutive at-bats and drove in four for Smitty's.
Article content
Flippin Mike's 19, Team Awesome 10
Flippin: Jayden King 4-4 ​​HR, Robert Verhoeve 4-4 HR
Team Awesome: Darryl Whittington 3-4, Jordy Thompson 2-3, Shane Hall HR
Flippin Mike's spotted Team Awesome an early 6-0 lead. Jayden King hit for the cycle for the winners while driving in six.
Hit N Run 36, Flippin Mike's 15
Hit N Run: David Klassen 5-5, Jr. Andres 5-5 HR, Franky Klassen 2HR, Diedrich Klassen – Grand Slam, Peter Klassen HR
Flippin Mike's: Christian Devlin 4-4 HR, Dave Vincent 4-4, Robert Verhoeve HR, Spence Meron HR
No contest in this one as Hit N Run plated seven in four of their six at-bats.
Smitty's Electrical 25, Hit N Run 24
Smitty's: Damion Bancroft 3-4, Nick Joosse 4-4, Christian Bevan HR, Shawn Brooks HR, Justin Wood HR, Jesse Legg – Grand Slam
Hit N Run: Jacob Enns 4-4, Peter Klassen 4-5, Franky Klassen 2HR, Jacob Klassen HR, Diedrich Klassen 3HR, Abe Klassen HR
Smitty's fought back from a 14-run deficit to take this one. Jesse Legg's grand slam walked it off for the winners.
Smitty's Electrical 22, Pelicans 14
Smitty's: Kevin MacDonald 5-5, Ross Groat 4-4 HR, Jesse Legg 3HR, Shawn Brooks 2HR
Pelicans: Nick Barnim 4-4, Rob Fishback 3-4 2HR, Steve Leacock 2HR, Nick Wilson HR
Smitty's lead off batter Kevin MacDonald doubled three times, tripled, and scored four runs. Jesse Legg homered three times and scored four runs.
Men's C
Crusaders scored 16 runs late to break up a close game with Norfolk Electric.
Norfolk rebounded with a victory over John Beere on the Friday night.
Article content
Crusaders 29, Norfolk Electric 15
Crusaders: Abe Guenther 5-5, Nick Neufeld 3-3
Norfolk: Phil Beauvais 3-3, Graham Nickerson 4-5
Willy Dyck drove in five runs for Crusaders. Benny Klassen, Jacob Bartsch and Abe Guenther each hit a pair of doubles.
Men's D
The chance of an unbeaten season for Bad News Bears is over after J/E Bearing handed them their first loss last week. They were upset in their next game by Designated Drinkers, who also beat the Eh Team but lost a close one to Pre-Gamers.
The Bears rebounded with a win over the Eh Team and Pre-Gamers won by forfeit over Eh Team.
Misfits won a pair last week over WJ Roofing Hitmen and RLP Melanie Luksys. Eh Team also edged out RLP.
J/E Bearing 18, Bad News Bears 13
J/E: Darren Swick 5-5 HR, Shane Balcomb 4-5, Craig Boucher HR, Brad Wentzell HR
Bears: Scott Beattie 3-3, Jordan White 3-3, Michael White HR
Darren Swick hit for the cycle for J/E and scored five runs.
Eh Team 10, RLP Melanie Luksys 9
Eh Team: Jay Whyte 3-3, George Hiebert 3-3
RLP: Cole Toth 4-4, Travis Dedobbelaer 4-5
Ed Porter scored Eh Team's winning run in their three run rally.
Pre-Gamers 16, Designated Drinkers 15
Pre-Gamers: Shawn Knelsen 4-4, Dylan Boyd 3-4
Drinkers: AJ Durston 4-5, Gavin Haggith 4-6
Dylan Boyd, Shawn Knelsen and Owen Wilson scored three runs for Pre-Gamers.
Misfits 19, WJ Roofing 10
Misfits: Kevin Hmeil 4-4, Matt Pitt 4-4
WJ: Aaron Bartsch 3-4
Everyone in the winner's order had at least two hits.
Misfits 13, RLP Melanie Luksys 11
Article content
Misfits: Craig Pettit 4-4, Eric Kerr 4-4
RLP: Peyton Harris 4-4, Natan Granger 3-4
Craig Pettit and Kevin Hmeil each scored two runs for the Misfits.
Designated Drinkers 15, Eh Team 5
Drinkers: Gavin Haggith 4-4, Brady Vanymerin 4-5
Eh Team: Jordan Crosbie 2-2, George Geortzen 2-3
Six of 10 batters in the winner's lineup scored two runs.
Bad News Bears 22, Eh Team 7
Bears: Owen Beattie 4-5, Scott Kristensen 4-5, Tom Gammage HR
Eh Team: Issac Harder 3-3, Corey Reid 2-3
Michael White scored four runs for Bears.
Designated Drinkers 11, Bad News Bears 9
Drinkers: Matt Barker 2-3, Darryl Barker 2-3
Bears: Cole Palen 3-4, Owen Beattie 3-4
Drinkers got off to a quick start plating seven first-inning runs.