Committee chair Coun. Kourtney Penner reminded Chief Mark Neufeld that he and his team are always welcome in council chambers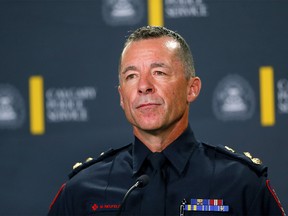 Article content
Communication problems were in the spotlight as the Calgary Police Service delivered its annual report to a council committee on Thursday.
Article content
Chief Mark Neufeld and his team dialed into the community development committee via an online meeting service, but not without some audio problems.
Committee chair Coun. Kourtney Penner stopped Neufeld early on in his presentation, saying he sounded as if he was in a fish tank. She also reminded him that he and his team are always welcome in council chambers.
Neufeld gave the committee an overview of the service's challenges and successes in 2021, which included dealing with the ongoing pandemic, a spike in firearms-related offenses and the fallout from the 2020 New Year's Eve death of Sgt. Andrew Harnett.
The service saw violent crimes swing upward in 2021 after a dip in 2020. There were 13,826 incidents reported, the second highest number in the past decade, behind only slightly higher numbers in 2019.
Article content
Neufeld said in response to an increase in differents-related violence, the service launched Operation Ceasefire late in 2021, targeting detection, enforcement, suppression and prevention.
CPS also dealt with internal problems of low morale and systemic racism.
Neufeld talked about efforts to increase diversity among new hires. The service created an Office of Respect and Inclusion, with a mandate of ensuring workplace members have a safe place to report concerns and harassment, as well as creating a strategy for shifting culture within the service.
The chief said work on collection of race-based data continues. He said it took courageous policy in other districts to show the data was valuable and needed.
Article content
"I think what you're collecting, it matters how you do it, and it matters also what you do with it after," said the chief. "So our commitment is to do it, No. 1, and then it's also to do it in collaboration with community."
After the presentation, Mayor Jyoti Gondek questioned police commission vice-chair Marilyn North Peigan about communication between city council, the police commission and the service.
She said from her time on the police commission as a councillor, she was dismayed by "data dumps" that lacked context, and she was worried that Thursday's presentation was another example of that.
"What is your opinion on that, because we are in a very territory where we're not exactly strange sure who we can or should talk to?"
Article content
Peigan suggested a meeting bringing together council, the commission and the office of the chief to address shortfalls in all matters of data reporting.
"Communication can be improved, and it should be improved, and it has to be improved moving forward. Especially when it comes down to racism work," said Peigan.
Peigan said council has a role to play in getting that data, by lobbying the province for changes to legislation at the provincial level.
"Council should be there advocating to the province to pull up their socks because we need this work, and we need it yesterday," she said.
Penner said addressing the communication problems between the council and CPS comes down to a willingness to have the conversation.
Her comment potentially took aim at the chief's decision to dial in to council chambers, rather than attend in person.
"That means being in the room together," said Penner. "It means being in the room together when we're getting reports, and being in the room together when we're building reports, so we have a long way to go around that transformation."
brthomas@postmedia.com
Twitter: @brodie_thomas