LARGO — On Nov. 8, Largo voters will decide whether it will be game on or game over for a massive sports complex proposed for a vacant piece of city-owned land west of the Largo Central Park Nature Preserve.
Many nearby residents of the proposed facility calmly but passionately stated their case to city leaders July 19 why the development would harm their quality of life.
Commissioners said they were listening, but they also didn't want this to be the end of the discussion.
Therefore, they voted 4-2 in a second public hearing to keep the project alive and let all Largo residents have a say in the general election. Those voters won't be deciding on the project itself, but rather whether the city is even allowed to sell the property to Porter Development LLC, which aims to transform the 87.9-acre parcel east of the Largo Public Library into a sports tourism destination. A portion of the site was once used as a landfill and home to the Bay Area Renaissance Festival.
The move is necessary because the city charter requires referendum approval of the sale or lease of any city property that exceeds 1½ acres.
Porter Development of Clearwater is seeking to construct a sports complex that would include a 170,000-square-foot active recreation center, another 60,000 square feet of indoor pickleball courts, outdoor pickleball courts, and a 10-acre lagoon concept. The center would also include eight basketball courts, 16 volleyball courts, a climbing course, family arcade, and an open floor space that would allow it to host youth sports programming.
Harmful or helpful?
Opponents and supporters of the project shared opinions on both ends of the spectrum.
Proponents said the development would bring a recreational and financial windfall to Largo, citing a study that claimed it would provide $370 million to the city over 10 years.
Detractors, however, many from the nearby Lincolnshire Estates mobile home park and New Haven Condominium Association, said the complex would destroy their quality of life.
They cited excessive traffic, noise, environmental and health concerns regarding the remediation of the landfill.
"Our community is made up of seniors who in many cases retired here to enjoy a quiet, uncluttered lifestyle for the rest of their lives," said Charlene Emmett of New Haven Condos. "These are not starter homes and they are not particularly concerned about the value of their homes. They want peace and quiet. This development would do just the opposite with the increased vehicle and pedestrian traffic."
Roughly 20 more residents echoed Emmett's concerns during the meeting and many more have emailed the commission in recent weeks, imploring them to halt the project.
The traffic concerns stem from the location, which currently has limited access and mainly two-lane roads in the vicinity.
In October, commissioners narrowly rejected a developer's plans to construct a 231-unit apartment complex directly southwest of the proposed site after residents complained about compatibility and traffic along Eighth Avenue Southeast.
The main access to this development would be via Highland Avenue and East Bay Drive, the developer says.
The residents also cited the history of the land as a reason to leave it untouched.
In 1997, the Southwest Florida Water Management District handed over ownership of 73 acres of the property to the city to be used to treat stormwater runoff and for general public recreation purposes.
Brian Aungst, a land-use attorney representing Porter Development, had said a large portion of the northern portion of the property would be retained as green space that would be available for recreational uses.
Assistant City Attorney Nikki Day added that she thinks the proposal does not violate any deed restrictions and she has been in discussions with Swiftmud to get its confirmation.
Longtime community leader George Feaster joined the cause, urging commissioners to preserve the space or remediate the landfill itself for its own purposes.
"If you can now back away from it, don't sell our property that is parkland. Keep it," he said. "Where are you going to replace that type of acreage in this community? You can't find a hundred or 87 acres that could be used like that is. It was meant to be a part of that park, let's keep it that way."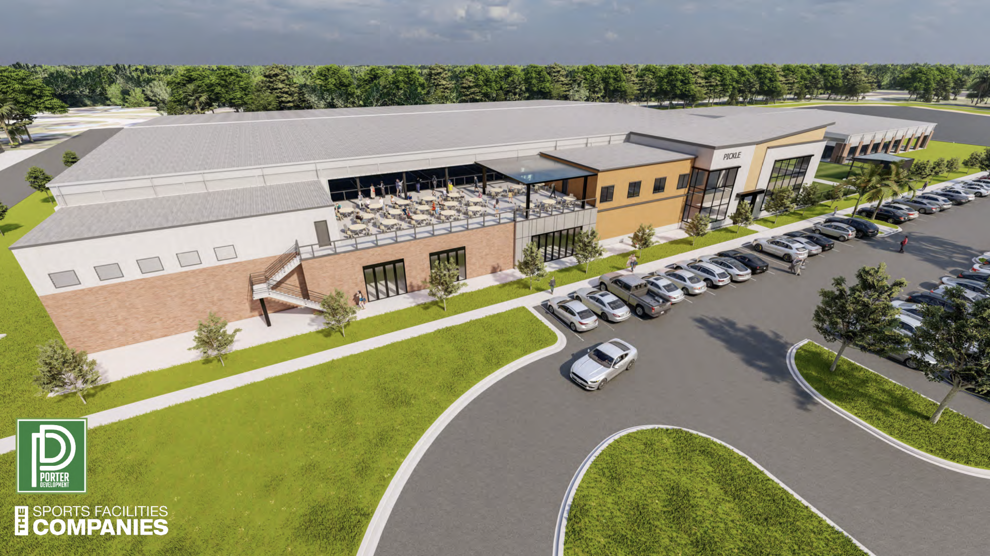 Just the beginning
Aungst said the benefits from the complex far outweigh that of a landfill and this is an opportunity that all citizens of Largo should weigh in on.
And the question at hand, he said, wasn't even approval of the project.
"This question is permissive. It does not require you to sell the property," he said.
"This is the very beginning of a long community conversation and discussion."
He said at any point moving forward, which would include purchase and development agreements, the city could kill the development.
Pickleball players also chimed in, urging commissioners to embrace the project that could put Largo on the map by attracting national and international tournaments.
"Pickleball has become an economic driver across the whole country," said Ed Carlson, National USA Pickleball Association ambassador to Pinellas County. "You have a chance to be the pickleball capital of west Florida."
Commissioner Jamie Robinson said the discussion should continue, and that most residents' concerns are premature.
"I very much appreciate all of the statements and all of the comments that were made this evening, but I think a lot of those statements will be better served if this ever gets to any of those points," he said. "We're way far away from that right now. We're years away from that right now."
Commissioner Donna Holck agreed and said this is just the first step in a long line of decisions.
"It's not like we're going to be voting on this in November and then start building this in January," she said. "We still have the opportunity to change our minds on this."
Commissioner Eric Gerard, who joined Vice Mayor Michael Smith in voting against putting it on the ballot, said he was concerned this referendum question could taint others on the ballot, including one asking voters to exempt the Horizon West Bay mixed-use City Hall from charter restrictions on leasing property.
Smith, who was the only commissioner to vote no on both readings, said he felt the process had been rushed since the project had only been in discussions since January.
He added that he understood the economic potential, but he valued the land and was protective of the Nature Preserve.
"I'm sorry. I'm a greenspace person," he said. "I get it. It goes to the voters. They elected me to sit here and make decisions — hard ones."
The decision will now be up to Largo's voters Nov. 8.
.