MONUMENT • There's still time in the season to enjoy the outdoors and camping with style in Monument.
Although glamping has been around for over a thousand years, the term was created in 2005 as a hybrid of "glamorous" and "camping." Glamping is a manner of camping but with non-traditional amenities which still provide some of the comforts and luxuries of home.
Chris and Wendy Jeub have made it their mission to provide this glamping style to Monument for visitors to enjoy through their business Monument Glamping.
Jeub and his wife were originally introduced to glamping out of necessity.
Natives of Minnesota, the couple moved their family to Colorado in 2000 and have raised their children at their home at Monument Creek. Chris Jeub is an English teacher, while Wendy Jeub is a homeschool teacher.
However, in 2019, when the couple decided to remodel the master bedroom of their home, they built a platform nearby upon which they set up their own camping tent and moved their bedroom outdoors until the remodel was completed a month later. Chris Jeub describes that month of sleeping outdoors as "magical," and soon a desire grew between them to offer that experience to others.
Monument Glamping was off and running at that point, with several glamp sites and amenities established on the couple's property with other aspects to enjoy like the creek, trails and views of sunrise and sunset from their backyard. The property is just minutes from the downtown Monument, and just a of couple miles from the wilderness of Pike National Forest.
In addition, the couple resides in the main dwelling, allowing them to be available to provide guests with information and aid requests as hosts.
The property has three safari-style glamp sites, one close to the main dwelling, one closest to Monument Creek with solar power provided, and a third "premium" site which remains on an electrical grid and includes an electric fireplace and a private hot tub .
In addition, the property offers a "Bell by the Water" glamp site, the hosts' newest site, with solar power, propane fire pit, picnic table and seating area by the creek. At first, Chris Jeub did not think he was able to construct a bell-tent glamp-site that close to the creek, because it was in the floodplain. However, as he goes through the process of permitting to meet county and state codes compliance, he was informed by a specialist that camping in the floodplain is actually encouraged.
"As I move through the permitting process, I have to adapt and adjust to whatever is required by my county, my city and by the state, and it actually makes for a better venue for my guests," Jeub said.
"A lot of glampers out there are people like me, landowners, who have beautiful property that want to open it up to others to enjoy. So you aren't really a customer coming to my property, you are a guest."
Lastly, a Cozy Qube Container Home is also available, which is a semi-outdoors glamp site including a studio room with bedroom, sofa, kitchenette, toilet and shower. Outside the container home is a deck with a grill, fireplace and ready-to-use hot tub.
Jeub said there are similarities between traditional camping and glamping, but also some differences. Both are typically done in tents, or possibly an RV or trailer. Both are a mode of vacation and involve being in and enjoying the outdoors.
However, with glamorous camping, everything is already set up for the camping patrons. All campers need to bring with them are food and beverages. Jeub said adult beverages are also available on site for an additional fee.
"We want to give people the best experience we possibly can give them," he said.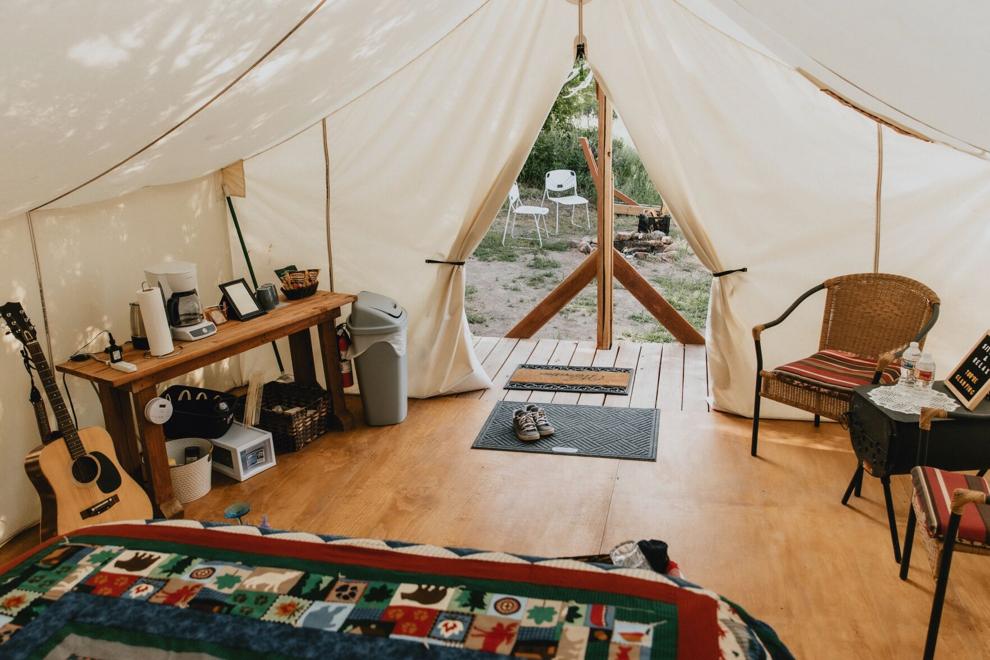 Another aspect of glamping the couple have discovered is most glampers are also tourists which do not remain at the glamp-sites all day. They day trip to visit Colorado Springs, Denver and along the Front Range, go hiking, enjoy area restaurants and enjoy other outdoor activities in various locations of the region. However, their mornings and evenings are spent on the glamping property.
"They're here for a glamorous experience in the morning when the sun rises, and in the evening when things are starting to cool off and sit around the propane fire pits," Jeub said.
Another difference between glamping and camping is most glamping sites are on private property like the Jeub's location. However, the question of where glamping is legal has come up from time to time, Jeub said.
Glamping, a term that was added to the Oxford English Dictionary in 2016, was used as a means to avoid paying taxes in the United Kingdom. Years ago, those who owned RV's and mobile campers were assessed what was essentially a luxury tax.
"They dumped that tea into the sea and decided to avoid that tax by setting up glamping sites on private property, which eventually begged the question of whether glamping is illegal or not," Jeub said. "Glamping is totally legal. People who say glamping is illegal are misinformed. They don't typically know what they're talking about, and it's just not factual."
Jeub said while ensuring his glamping property has remained approved with the municipalities and their department codes, he has learned a ton about zoning, permitting, health department standards and environmental standards. Any time he was found not in compliance in some aspect, he was never shut down and always afforded the opportunity and time needed to bring his property and its glamping operations into compliance. You appreciated the process because it also helps legitimize his business, he said.
"This is how the government should work," Jeub said. "When the police pull you over, they don't impound your car for having a broken tail light. They tell you to get your tail light fixed and the world keeps turning. And frankly, I appreciate that."
.