"I think Folkfest is getting stronger and stronger every year, because it has the involvement of the different cultures."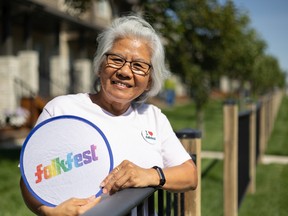 Reviews and recommendations are unbiased and products are independently selected. Postmedia may earn an affiliate commission from purchases made through links on this page.
Article content
Felicitas Santos-Vargas has worked at Folkfest nearly as long as she's lived in Saskatoon.
Article content
Over the years, Santos-Vargas, who got involved with Folkfest in 1981, has seen the festival grow and change and she hopes to see that continue.
"I think Folkfest is getting stronger and stronger every year, because it has the involvement of the different cultures. It's not only one specific group."
Having been a performer, pavilion manager, board member and president of the festival, Santos-Vargas is the Philippines pavilion volunteer coordinator this year.
She chatted with the StarPhoenix about her experiences and her hopes for this year's festival as it returns to in-person for the first time since 2019.
Q: What changes have you seen in Folkfest in the past 40 years?
A: I've seen the participation of many cultures. When we started, there were only (about) 15 participants. And now, of course, there was one point in time that we had close to 20 pavilions. I've seen people volunteering from year to year to year. And seeing young people participate — performers start at a young age. My son, when he danced, he was only five or six years old. Former performers ended up being people in charge of the cultural aspect. So they were able to share from their experiences.
Article content
The excitement of curiosity from the people about the culture that they see, asking questions, and then we're able to answer their questions. I think the combination of all those things is what really makes Folkfest exciting.
Q: What are you especially looking forward to about this year's festival?
A: This year is quite exciting, because there's an excellent opportunity to be sharing hosting and culture with the Pakistan pavilion. In our pavilion — the Philippines and the Pakistan one — there's a cooperation where some of the activities are going to be presented by both cultures. So they have their own, we have our own and then we have an activity that's a combination of the two.
Q: Do you have a favorite Folkfest moment from your time with the festival?
Article content
A: I was in the position to be the president of Folkfest (in 2010). When you're a president, you're able to see the other pavilions with the president's tour. That one year, I was able to go and visit and enjoy other cultures, see other pavilions. It's amazing (to see that) people from other pavilions are doing the same thing, too. That was, I think, one of the most wonderful things that I've experienced.
But it's really important to identify the importance of having the honorary ambassador. dr. (Carlos) Maningas from our community, was an honorary ambassador at one point. We were blessed, I think, that people have trusted us in those positions. We're happy to be a part of it.
Q: What do you hope patrons take away from Folkfest this year?
Article content
A: I think the pandemic had a big impact on the return of Folkfest this year. So, we're hoping that we're able to bridge the gap from those two (years) and continue understanding other cultures and the enjoyment of what the other cultures bring to the community.
I invite the community to visit each of the pavilions, taking time to know other cultures and taking time to just be a part of the community, because this is a big event. Sometimes in the past, because we have so many pavilions, we're unable to visit them all. But I think with fewer pavilions it's nice to see all around. Especially the international one, (in) Merlis Belsher Place.
This interview has been edited for length and clarity.
jbennett@postmedia.com
Folkfest returns to in-person festival looking a little different

Five concerts hitting Saskatoon stages this month
The news seems to be flying at us faster all the time. From COVID-19 updates to politics and crime and everything in between, it can be hard to keep up. With that in mind, the Saskatoon StarPhoenix has created an Afternoon Headlines newsletter that can be delivered daily to your inbox to help make sure you are up to date with the most vital news of the day. Click here to subscribe.