If anthropogenic global warming is a real effect of burning fossil fuels — and many people, maybe most people, believe it is a real effect — and if humans are going to continue burning fossil fuels, then we might very well see water shortages in certain places , in the future.
Reading the news, it appears that we already have a serious water shortage unfolding in the American West, downstream of Pagosa Springs… where the San Juan River runs into Navajo Reservoir and then on into Lake Powell.
But if you don't read the news, everything seems wonderfully green and vibrant here in our little rain-blessed mountain town.
My first 11 years in Pagosa Springs, I didn't read the news, and I didn't notice 'problems' with water, other than during the '100-year drought' in 2002, when the San Juan River slowed to a trickle and the 73,000-acre Missionary Ridge Fire swept through the drought-stricken forests near Vallecito Lake, to become, at the time, the seventh-largest wildfire in Colorado history.
That is, the seventh-largest fire written in the history books. We don't really have much history written down, here in southwestern Colorado. Maybe 150 years worth? Out of 10,000 years of human habitation?
Most of the history, in this neck of the woods, is oral history. But we don't put much value in oral history, it seems.
For the past 14 years, I've been paying closer attention to water industry news. Our local water industry — Pagosa Area Water and Sanitation District (PAWSD) and the San Juan Water Conservancy District (SJWCD) — and the much more extensive Colorado River water industry.
Read the news, and wonder.
Wondering, and writing about the news.
This morning, I'm wondering — in particular — about the interface between the Colorado water industry and the Colorado tourism industry. They sometimes seem to be sleeping in the same bed.
Here are a few interesting numbers.
According to the 2022 draft of the soon-to-be updated 'Colorado Water Plan', our state's gross domestic product is estimated at about $366 billion.
About $47 billion of that amount comes from irrigated agriculture, which is pretty much totally dependent on diverting water out of the rivers.
About $19 billion of that amount comes from 'water-related recreation', which we might assume is pretty much totally dependent upon leaving water in the rivers.
These are supposedly 'facts'.
Sometimes the water industry throws around big numbers — like "$19 billion from water-related recreation" — without telling us exactly what they mean. Like, does this include skiing? Someone could certainly make the case that snow is "water-related".
How about going on a picnic, and relaxing, near a river? Could that also be "water-related recreation"?
The draft Colorado Water Plan throws the number "$19 billion" at us, without much explanation. Fortunately, the plan does include a link to further details, if anyone is really interested.
Here's where that "nearly $19 billion" number came from.
From a financial analysis developed by a group called "Business for Water Stewardship".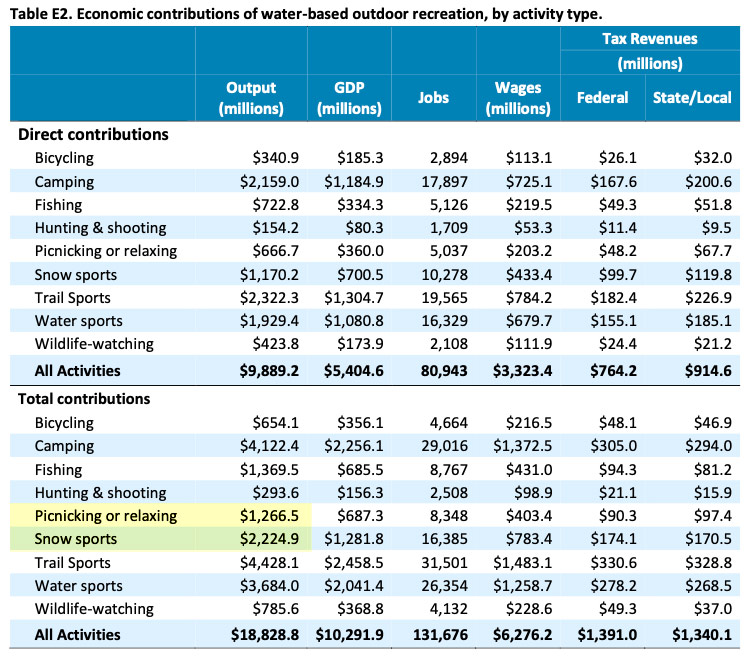 Yes, "snow sports" are indeed "water-based recreation" when you are writing about Water Stewardship.
And so is "Picnicking or relaxing". In fact, "picnicking or relaxing" contributed nearly $1.3 billion to the Colorado economy.
Who knew?
And bicycling is also water-related. And hunting and shooting. Wildlife watching, too. It would appear that pretty much any kind of recreation you can imagine is "water-based."
One number (a big number?) that is curiously missing from the 239-page draft Colorado Water Plan: the amount of water used by Colorado's oil & gas industry. You might think an industry that contributes $7 billion a year to Colorado's GDP might be worth at least a footnote in a 239-page document about water use? After all, that's nearly six times the economic contribution of picnicking and relaxation.
Another number from the Colorado Water Plan:
The basin roundtables worked to create a list of local project needs during the 2014 and 2021 BIP development and update processes. In both cases, the total costs identified were significant — most recently in excess of $20 billion.
One of the local projects seeking a piece of that $20 billion, here in Archuleta County, is a proposed 'enhancement' of the San Juan River, north of downtown Pagosa Springs. The Upper San Juan Watershed Enhancement Partnership has developed a plan to 'improve' the river for fishing and boating activities, and is seeking $2 million in taxpayer subsidies to implement the plan.
From what I can tell, the proposed work would involve digging channels in portions of the river, and adding various 'structures' to the river to encourage trout and other water-loving lifeforms to thrive and multiply. The channels and structures might also make rafting more viable.
A couple of Daily Post readers contacted me about something I'd written in a previous editorial series, "EDITORIAL: The Preservation of Aquatic Life in Archuleta County."
I'd written:
A curious thing about Colorado Rivers. The stream bed and river banks legally belong to the adjacent property owners, so members of the public will not be free to fish from the shore or walk in the stream bed, anywhere along this 3-mile stretch, without permission from the property owners. Anyone can float down the river, but we cannot set a foot on the earth without owners' permission…
When I wrote that paragraph, I had not done any research into this question. The statement was based on what you might call "common knowledge" for folks who've lived in Pagosa for a couple of decades. Of course, "common knowledge" is not always accurate, just as "scientific knowledge" is not always accurate.
Even "legal knowledge" is not always accurate.
But… if my information was accurate… then the government entities that are lining up to throw money at a $2 million "stream enhancement" project aimed at a three-mile stretch north of downtown Pagosa Springs, probably ought to be having some conversations about who , exactly, this $2 million investment is going to benefit. The project has been proposed by the semi-public Upper San Juan Watershed Enhancement Partnership ("the WEP"), which is supported by Durango-based Mountain Studies Institute.
To my knowledge — based upon hearing presentations of the proposed "enhancement" project at three different meetings — these conversations about river access have not yet taken place. But taxpayer funding has nevertheless been promised.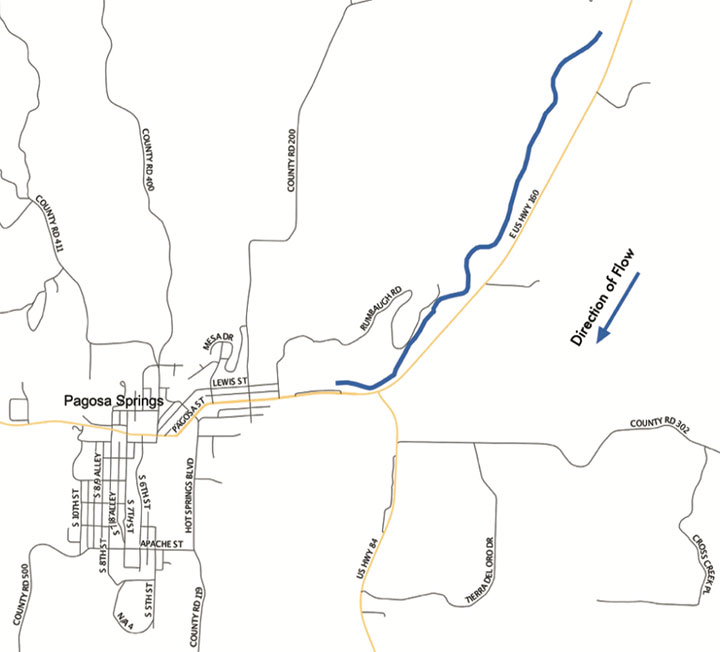 Nor is it clear whether Mountain Studies Institute or the WEP has obtained 'buy-in' for this project from the private property owners who 'own' this particular stretch of the San Juan River.
But this week, I'm not thinking so much about access to a river that has benefited from $2 million in taxpayer subsidies.
I'm more interested in a proposal to build a multi-million-dollar reservoir. A proposal that might be slightly crazy.
Read Part Two, tomorrow…
Bill Hudson
Bill Hudson began sharing his opinions in the Pagosa Daily Post in 2004 and can't seem to break the habit. He claims that, in Pagosa Springs, opinions are like pickup trucks: everybody has one.