Wednesday marks Ken Bracewell's last cruises captaining the Duc d'Orleans II, a longtime fixture on the St. Clair River.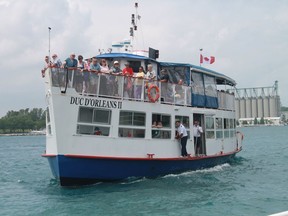 Article content
Wednesday marks Ken Bracewell's last cruises captaining the Duc d'Orleans II cruise boat, a longtime fixture on the St. Clair River.
Article content
He and his wife Sherry are stepping back after operating the Sarnia ship and its namesake predecessor since 1978.
"We plan on spending our winter months in a southern climate, but we want to see more of Ontario," 69-year-old Bracewell said about their retirement plans.
"Our summers for 44 years have been taken up by the Duc. … There's just no chance to see any of the other attractions in our country when you're working seven days a week."
Still, they've been good summers, he said.
"Go out and watch people have fun, cruise down the river — it's a nice way to make a living," he said. "It's been good to us."
Sarnia firefighter Bill Turner and his family spent this summer shadowing Bracewell during the season's cruises, learning the ropes of operating the 70-foot, 200-capacity vessel before the sale closes Oct. 12, Bracewell said.
Article content
"I really wanted the boat to stay in Sarnia, so I really wanted to find somebody who would take the operation basically as it is and carry on," he added.
The incoming owners heard through a friend the Bracewells were looking to sell the business and its 1987-built ship, Bracewell.
Turner wasn't immediately available Tuesday to comment.
After two years of down time amid COVID-19 and a pared back 2022— a reduction to 100 cruises from 160 to 170 in previous years — the time was right to retire, said Bracewell, father of three and grandfather of five.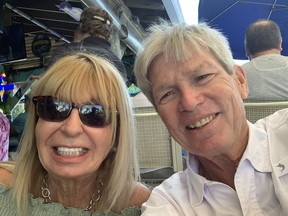 "We could have done a lot more" cruises in 2022, he said, but he and Sherry opted to scale back since they're getting older.
"We're getting a little bit, you know, a little more aches and pains. It takes a little longer to get going in the mornings," he said.
Article content
"It's a fairly grueling schedule. I think it's a young man's game."
Bracewell said he bought the Sarnia-built Fairmile Q105 that became the original Duc in Quebec with former partner Jacques Beauchamp.
"It didn't really interest him after the first season," Bracewell said of Beauchamp. "So 1979, he was with me and, from 1980 on, I was by myself."
That original ship had its own storied history that began in the 1940s hunting Nazi submarines before later helping university students conduct research.
The current Rhode Island-built vessel was bought in 2005, he said.
"The boat is fantastic," he said. "We just did our five-year hull inspection for Transport Canada. It's really good."
The duo haven't had a hard time attracting crowds for cruises, he said.
Article content
"The waterway here in the summer is just so gorgeous and people want to get out," Bracewell said.
Local workplace parties and corporate events, cruises with live bands, dinner cruises to the US and an annual seniors cruise were among the offerings over the years, he said.
Two workplace cruises were planned for Wednesday's finale, he said, noting he's feeling fine about his last voyages.
"It's not really bothering me right now that this is going to be the end," he said.
Bracewell wished the new owners "all the success in the world."
"I hope everything just runs along tickety-boo, and I hope everybody that's supported us will support them the same way."
tkula@postmedia.com