When camping with the family, you'll want to leave nothing to chance. These tents will ensure a fuss-free adventure.
On any family holiday, there's plenty you can't control. There's the weather, for one, or the volume on your fellow holidaymakers' bassy Bluetooth speakers. But coming well prepared with trustworthy kit is certainly a good place to start.
Our team evaluated family-friendly camping tents of differing styles and shapes, packing them off with suitably sized groups for overnight trips. Each was assessed for spaciousness and comfort, as well as the ease with which it could be packed, carried and pitched.
This being a time of La Niña in the eastern states, reliable waterproofing was also paramount to avoid any tantrums (and not just from the kids). Bonus features such as split bedroom and living sections, internal pockets, light hooks and carry bags can also help to make your expedition more of a success than a stress.
Whatever you're looking for, peruse our list of the most reliable camping tents before loading up the car boot. Happy campsite.
The field test
All of our testers had solid camping experience. Here are their key judging criteria:
1/ Performance: The best camping tents could be pitched and dismantled in a flash and proved waterproof after a test in the MH lab.
2/ Design: Testers looked for space, storage pockets, light and ventilation – all you need for a pleasant trip.
3/ Ease of use: Poles that slotted together quickly, easily attachable guy ropes and clear instructions got the thumbs up.
blow it up
76/100
Regatta Kolima V2 6-Man Family Tunnel Inflatable Tent, ($949, ​​fruugoaustralia.com)
Performance: 4.7/5
Design: 4.5/5
Ease of use: 1.7/5
FEATURE-PACKED: This tent inflates in minutes and accommodates four in the darkened bedroom. The guy ropes are bright and visible, while handles on the bag let you carry it like a rucksack.
EXPERT OPINION: Our testers called this waterproof tent palatial – useful for those with older children – and loved the separate sleeping and porch areas. They found it dutifully quick to blow up but fiddly to fold away.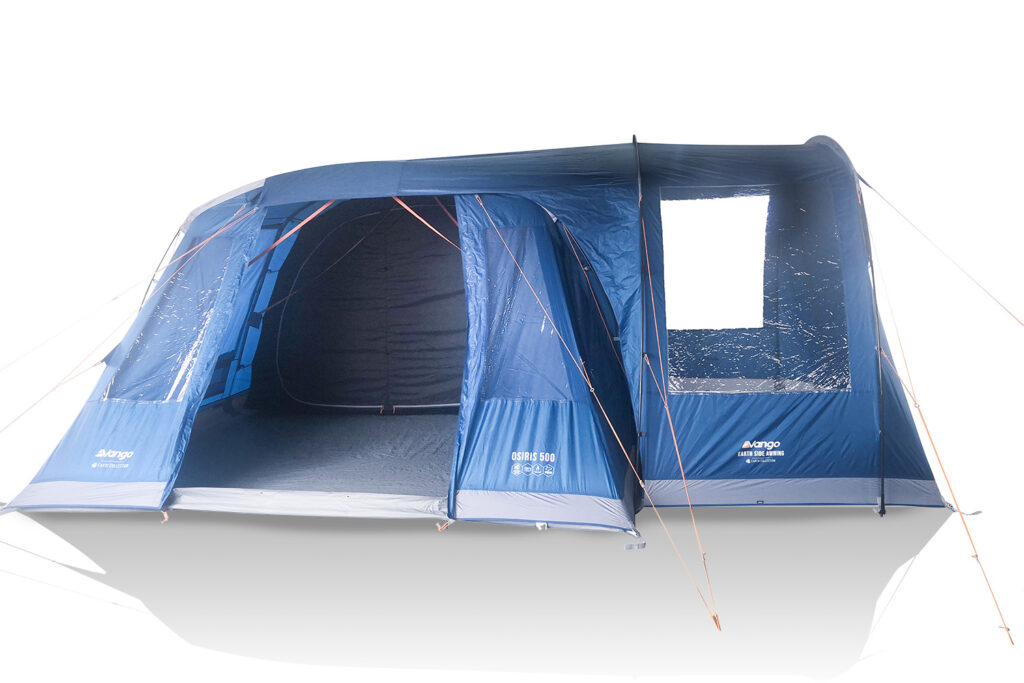 green giant
73/100
Vango Osiris 500, ($699, fruugoaustralia.com)
Performance: 3.5/5
Design: 4.5/5
Ease of use: 3.7/5
CONSCIOUS CAMPSITE: Trying to shop sustainably? This five-person tent is made from recycled single-use plastics. Mesh panels keep bugs out, and a covered side entrance prevents rain from entering the living area.
EXPERT OPINION: Our testing team appreciated the cross-bracing straps, which saved this tent from bending in the wind. It kept families cozy on a chilly day and blocked out enough light for a good night's sleep, but the groundsheet got a little damp.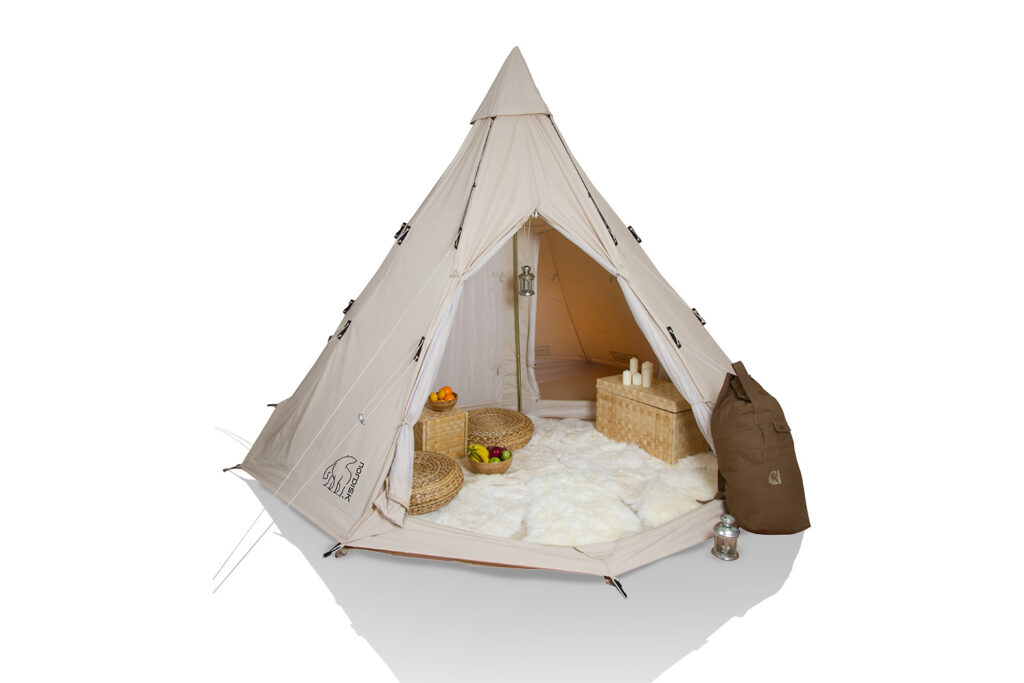 Sky-high
81/100
Nordisk Alfheim 12.6 Tent, ($1,092, wiggle.com.au)
Performance: 3.7/5
Design: 3.7/5
Ease of use: 4.5/5
SUMMER NIGHT'S DREAM: The top of this unusual tepee-style tent opens up for stargazing – ideal for those with kids. Assembly is speedy and it's deceptively spacious, too.
EXPERT OPINION: A doddle to assemble, thanks to its very clear instruction manual – and the fact that it requires only a single pole. It's heavier than some options and you'll want to check the forecast, as the flysheet isn't waterproof.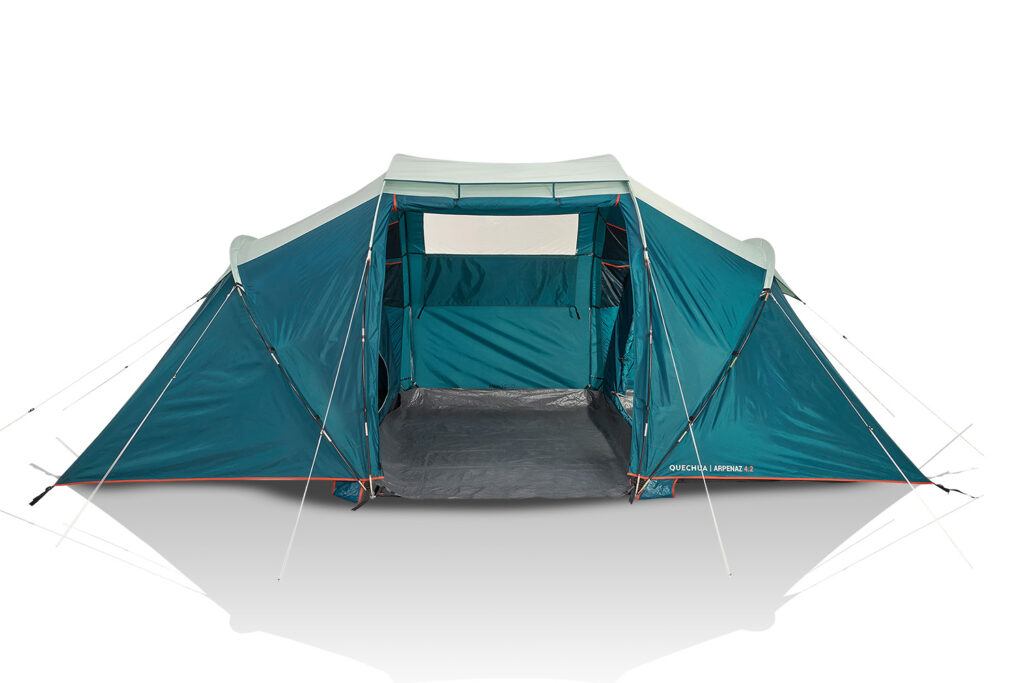 All weather friend
78/100
Decathlon Quechua Arpenaz 4.2 Tent, ($429, decathlon.com.au)
Performance: 4.5/5
Design: 3.5/5
Ease of use: 3.7/5
BARGAIN BREAK: With a stand-up living area and two bedrooms, this tent is a solid bet for families on short getaways. It's affordably priced and offers seriously impressive weatherproofing.
EXPERT OPINION:The instructions proved a little confusing and made pitching a faff; consider a trial run. Stashing it back into its bag was a wrestle, too, but rest assured, it'll keep you dry in a downpour.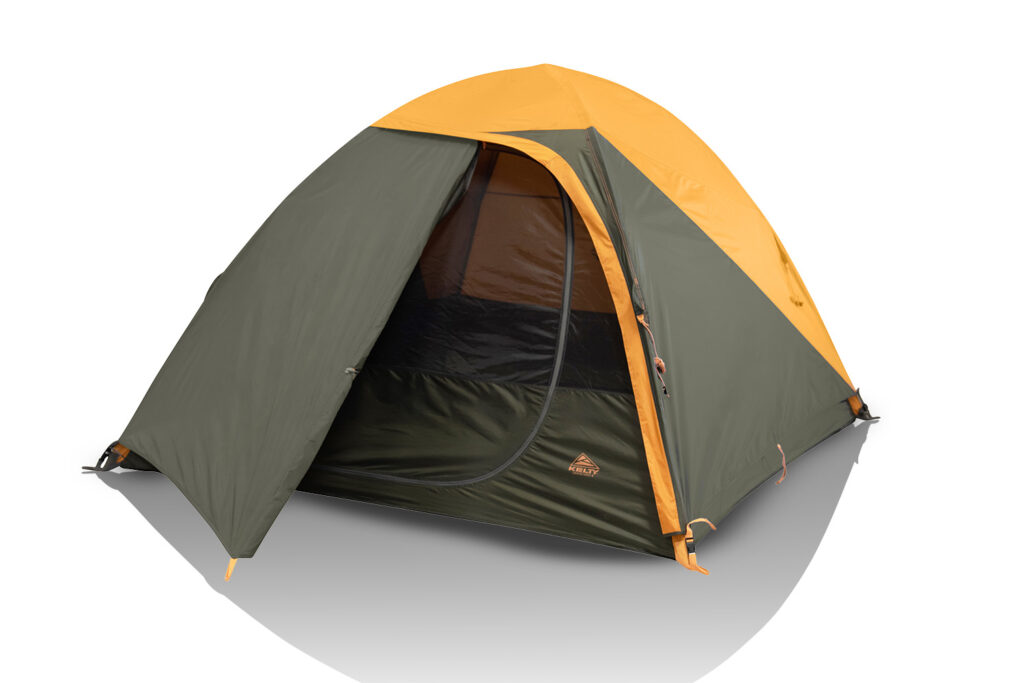 One man job
88/100
Kelty Grand Mesa 4 Tent, (price varies; try amazon.com.au)
Performance: 4.9/5
Design: 3.5/5
Ease of use: 3.9/5
TRAVELLIGHT: If minimal effort is a must, this four-person tent is lightning-fast to pitch. Its vestibule keeps muddy boots away from your sleeping bags, and it comes with a carry bag. The price is pretty good, and it's lightweight at just 3.4kg.
EXPERT OPINION: This was easy to set up solo and kept the rain out, but space is tight; a bigger family might feel cramped in bad weather.
FAQ: Camping Tents
How To Find the Best Camping Tent
There is a lot to consider in your search for the best camping tent for your adventure needs. You'll want to consider the season, type of adventure (backpacking or campground,) and the number of people using it. Obviously, if you have a family, a one or two-person camping tent just isn't going to cut it. (Leaving the kids to the elements is never a good look.) Opt for a tent that comfortably fits at least four people.
Aside from the size, there are generally three types of camping tents: three-season, three or four-season, and four-season tents. Three-season tents are cooling, lightweight, and act as a shelter in the spring, summer, or fall with mesh vents for easy, breezy airflow. Three-to-four or four-season tents are a lot more heavy-duty, built to withstand heavy rain and snowfall, and are made with heartier materials and more poles than your standard three-season tent. The grade goes up to five and beyond for more professional outdoor enthusiasts.
Seasoned camper and the manager of BackCountry.com's Gearheads Mikell Bova gave us his expert advice on how to shop for the best camping tent for your outdoor adventure.
"The most important things to consider are weight, packability, durability, and interior space," says Bova. "I tend to choose a backpacking tent that is middle of the ground weight-wise for increased durability. Be sure to align your checklist with the style of camping you'll be doing the most."
Cabin Tent or Dome Tent?
There are two main styles of camping tents to familiarize yourself with: cabin-style and dome-style tents. Cabin tents usually have a higher peak point, with almost vertical walls, offering more space to move. These are ideal for campsite camping. Dome tents tend to be a little stronger, made with more poles and to withstand a storm—but sacrifice some living space. They are usually packable and better for backpacking adventures.
When it comes to deciding between a cabin or dome tent, it all depends on what type of camping you're doing, according to Bova.
"If I'm car camping, I like to live in luxury in the woods, so a cabin style tent is essential so I can spread out," says Bova. "I am more concerned with sheer floor space, peak height, and ease of set up. If I'm backpacking, weight is going to be my biggest concern. Since I'll have to carry everything on my back, you can't beat the packability of a dome tent. Also, a good vestibule makes it easy to keep your shoes and backpack dry while allowing you to maximise the precious interior space in the tent."
Bonus features to look out for when shopping for the best camping tents are ample ventilation and multiple doors. Bova explains that two entryways help ventilate the tent, keeping condensation from building on the roof of your tent. Plus, a second door is great for making a quiet exit in the middle of the night when nature calls
With expert advice and lots of time sorting through the variety of tent options on the market, we rounded up the best camping tent to buy this year from tent brands like Coleman and Marmot, all available to buy online now. From the most waterproof tents to the most durable and spacious, there is something for any outdoorsman to make the most of their upcoming adventures.