ABSENCE:


While Taiwan was not mentioned by name, the officials' addresses alluded to Taiwan's exclusion from the UN agency's meeting, the foreign ministry said

France, Japan and New Zealand on Wednesday called on the International Civil Aviation Organization (ICAO) to include all active members of the global aviation community, in an apparent reference to Taiwan's exclusion from the UN agency, the Ministry of Foreign Affairs said.

French Minister for Transport Clement Beaune said that responses to common challenges nowadays called for more solidarity.

"This is the meaning of the word solidarity, no country should be left behind," he said on the second day of the ICAO assembly in Montreal.

Photo: Screen grab from the ICAO Web site

Tom Forster, manager of economic regulation in New Zealand's Ministry of Transport, said that success in upholding aviation safety lay in cooperation.

"This is why New Zealand supports the substantial participation and attendance of all active members of the international aviation community in ICAO forums," he said.

"It is also important that all relevant authorities can benefit from the timely exchange of information via ICAO. This is imperative for international aviation safety, and the safety of all people that participate in international air travel," he added.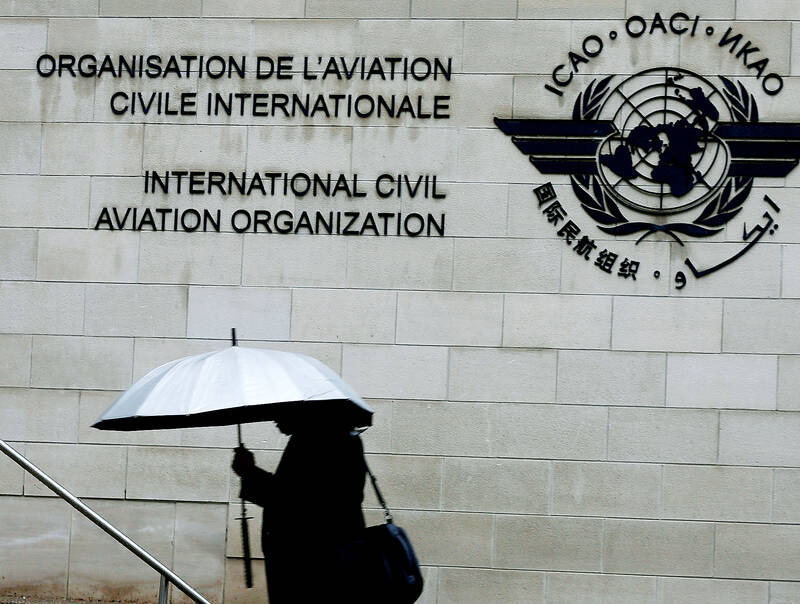 Photo: Reuters
Japanese State Minister of Land, Infrastructure, Transport and Tourism Toshiro Toyoda said that Tokyo supports participation in ICAO meetings by all members of the international civil aviation community.
"As the participation of those active members is essential from the perspective of ensuring the effectiveness of global policies such as safety, security and environment, Japan does not want to see a geographical blank in these areas," he said.
Although none of the three officials mentioned Taiwan in their addresses, the ministry said in a news release that it considered the comments to have been referring to Taiwan's absence in the ICAO and calling for Taiwan's inclusion, for which the government expressed its gratitude.
Taiwan last attended the event in 2013 as a guest of the ICAO Council's president, the first time that representatives from Taiwan had attended the gathering in 42 years, due to warming ties between Taiwan and China under the previous Chinese Nationalist Party (KMT) administration.
However, it has not been invited to the three meetings that have been held, including this year's, since President Tsai Ing-wen (蔡英文) of the Democratic Progressive Party took office in 2016 and relations with China began to deteriorate.
The ICAO is holding its triennial assembly until Friday next week at its headquarters in Montreal.
Comments will be moderated. Keep comments relevant to the article. Remarks containing abusive and obscene language, personal attacks of any kind or promotion will be removed and the user banned. Final decision will be at the discretion of the Taipei Times.
.