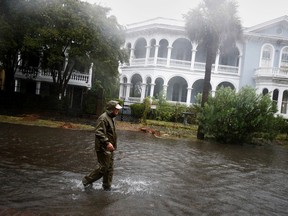 Article content
People today are constantly being reminded of the potential dangers of living close to major bodies of water.
Article content
That's why watershed management is important, as the flooding in British Columbia last year reminded us.
Article content
The deadly storm surge from Hurricane Ian in Florida and the massive damage caused by Hurricane Fiona in Atlantic Canada are more recent examples of this reality.
A well-made and competently implemented water management plan can greatly reduce damage caused by severe weather such as flooding, speed up the recovery process and in the case of smaller-scale events, even prevent them.
Front and center on this issue is the controversy about building on coveted real estate such as beachfronts and wetlands.
Whenever soil is dug up and/or plants are paved over, the water those plants and soil previously absorbed has to go somewhere.
Article content
Keep in mind, as well, that it won't be a one-time event.
Once beachfronts and wetlands are paved over, the same problem will keep happening without an effective water management plan.
In terms of frequency and damage, water is the number one natural hazard in Canada, yet it is one of the least talked about issues.
Let's look at an example in the Ontario community of Wasaga Beach.
As in many smaller municipalities, Wasaga Beach has a significant tourism industry in summer.
Indeed, the municipality shares its name with its famous freshwater beach, the longest in the world.
Over time a rise in water levels has resulted in the beachfront being shortened, sand being deposited on the closest roadway and occasional flooding in the businesses facing the shore.
Article content
As a reduction in the beachfront poses potential risks, it is safe to assume water management is an issue.
As is the case in many municipalities in the area, developers want to build close to the beachfront and on wetlands as this is considered valuable real estate.
While many people have issues with any development on wetlands and basically just dislike development, sometimes it is in the public interest to develop the land and deal with the water.
That said, developing land that soaks up water comes with an accompanying risk, requiring a thorough assessment of potential problems and a credible plan about what to do with the flow of excess water that can be expected.
In the case of Wasaga Beach, there is an ongoing controversy with many residents complaining they have not been meaningfully consulted about a major commercial and residential redevelopment of the city's beachfront, nor given sufficient information and feedback from the municipal government to assess the project.
Article content
The local government insists it has followed the proper municipal and provincial planning process, including public consultation, in approving the redevelopment plan and that confidentiality is required on some issues.
Given the desire for private companies to keep negotiations confidential, this is in itself not strange, but it does raise the question of whether a thorough risk assessment has been done regarding such issues as potential flooding caused by water displacement.
Typically, governments are happy to demonstrate the developments they approve have undergone a rigorous environmental assessment.
This is especially true in the case of wetlands and beachfronts where there will be significant displacements of water.
Article content
For a community so driven by tourism as is the case with Wasaga Beach, openness and transparency about the development approval process is obviously important and, done fully and properly, a political win.
The alternative, developing beachfronts and wetlands in cases where the flow of excess water is not properly accounted and planned for, will almost always result in increased flooding.
Woman braves Hurricane Ian flood to check on stranger's mom

Hurricane Ian heads for Carolinas after pounding Florida

Fiona fallout: Nova Scotia premier blasts cellphone companies for prolonged outages
It's only a matter of time. It's not debatable, it's hydrology.
If we want fewer basement floods and houses ending up in the ocean, we need to care more about things such as proper land-use planning.
If voters don't make it a priority, politicians won't make it one, either.
Vezina is the CEO of Prepared Canada Corp. and teaches Disaster and Emergency Management at York University. He can be reached at info@prepared.ca