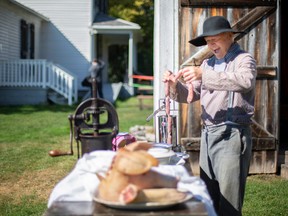 Article content
Taking a step back in time, visitors to the John R. Park Homestead Sunday immersed themselves in harvest activities that pioneers would have done more than 150 years ago.
Article content
"I love learning how to make apple juice and making corn husk dolls," said Tecumseh resident Marijana Carmickle, who along with partner Ryan Bisnett brought their children Cameron Brown, 6, Ava Bisnett, 5, and Ben Bisnett, 2, to the homestead's annual Horses and Harvest Festival.
Article content
"Definitely we're going to be doing some of these activities at home," Carmickle said. "Super simple yet very entertaining. I loved it.
"It's a beautiful day. The county has so much to offer. I think I like the more simplistic way of life."
As visitors toured the picturesque property on the shore of Lake Erie, volunteer Paul Hager demonstrated sausage making.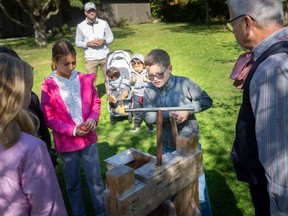 Hager said in the fall, pioneers slaughtered farm animals and one way of preserving the meat was to make sausages that they smoked in the homestead's smokehouse.
Article content
The sausages were hung in a dry spot in the house to be eaten all winter.
A nearby icehouse stored ice from Lake Erie in sawdust from the property's sawmill and straw from the fields.
"It would keep until well into the summer," Hager said.
Kristin Ives, curator at the homestead, said horses and harvest went hand in hand during pioneer times.
Sunday was the 24th annual event held at the homestead, built in 1842 by farmer and businessman John R. Park.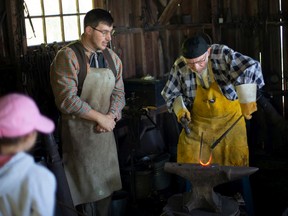 "For the pioneer family, small families did subsistence farming," Ives said. "You would produce food to keep yourselves and your livestock going through the rest of the year.
"Harvest is the busiest time in terms of work and getting those crops off (the fields), storing them and preserving them to ensure survival through the winter."
Article content
There were also hands-on activities for visitors – apple butter and biscuit making in the kitchen of the homestead, sausage pressing, apple cider making in the orchard, blacksmithing, weaving and woodworking demonstrations, tours, toys and games and scary stories.
Decolonization, reconciliation art on display at John R. Park Homestead

New visitor's center set to open at John R. Park Homestead
Sarah Parks provided pony rides and visitors could view everything from a newborn miniature horse to an Olympian, Little Romance, who participated in Rio in 2016.
"All of those horsemen volunteer their time," Ives said. "And I can't tell you how grateful we are.
"It's a really unique chance to see a variety of horses up close and learn a little bit about them."
jkotsis@postmedia.com