The Canadian Horse Racing Hall of Fame congratulates the people and horses being recognized as inductees in 2022. Five people and three horses have been elected from an extremely deep ballot of candidates.
Induction ceremonies for the Class of 2022 will be held during the summer of 2023, along with those inducted as part of the CHRHF Class of 2023, which will be announced in April of 2023.
Class of 2022 Thoroughbred Inductees Include:
Charles E. Fipke—Thoroughbred Builder Edmonton, Alberta-born Fipke, who is now based primarily in Britisyujy7h Columbia, is a successful Canadian geologist and prospector involved in the discovery of the Ekati Diamond Mine in the Northwest Territories. He entered the Canadian Thoroughbred Industry in 1981 and over the past forty-plus years, has bred and owned numerous horses that have been successful on the track and as part of his breeding operation. His Canadian racing accomplishments include breeding and owning three Sovereign Award winners—2008 champion 3-year-old male and winner of the 2008 Queen's Plate, Not Bourbon ; 2010 champion older female, Impossible Time ; and 2003 champion male turf horse, Perfect Soul, who went on to become a successful sire. Additionally, he bred and owns racehorse Perfect Shirl , winner of the 2011 Emirates Airline Breeders' Cup Filly & Mare Turf (G1T). Other Fipke-owned grade 1 winners include champion Forever Unbridled , Bee Jersey , Lemons Forever , Seeking the Soul , Jersey Town and Tale of Ekatic . Fipke bred and owned Lady Speightspeare , who received the 2020 Sovereign Award as champion 2-year-old filly, was most recently victorious in the 2022 edition of the Seaway Stakes (G3). Horses owned by Fipke have earned more than $35 million. In 2020 Charles Fipke was awarded the EP Taylor Award of Merit by the Stewards of the Jockey Club of Canada for his contributions to the Canadian Thoroughbred industry.
Eurico Rosa Da Silva—Jockey
A native of Sao Paulo, Brazil, Eurico Rosa Da Silva was drawn to the idea of ​​being a jockey from a very young age and enjoyed substantial success in his home country before relocating to Macau. In 2004, Da Silva moved to Canada making Woodbine his main base. Da Silva had back-to-back wins in the Queen's Plate with Eye of the Leopard in 2009 and Big Red Mike in 2010. Over the next decade, Da Silva won multiple grade 1 stakes and was awarded the Sovereign Award as Canada's champion jockey seven times. Other career highlights for the 2021 Avelino Gomez Memorial Award recipient include two Oaks wins and upsets prior to his retirement at the end of the 2019 racing season with El Tormenta in the Ricoh Woodbine Mile Stakes (G1T) and with Bullard's Alley in the Pattison Canadian International Stakes (G1T). Da Silva also had a remarkable partnership with multi-time champion, Pink Lloyd . On the international stage, Da Silva claimed victory in the 2017 World All-Star Jockeys Championship in Japan. Admired by both racing fans and fellow jockeys, Da Silva was appreciated for his professionalism, unbridled joy, and exuberant wishes of "Good Luck to everybody."
Sign up for BloodHorse Daily
Eurico Rosa da Silva
Out of the saddle, Da Silva's generous spirit was evidenced by his long-time commitment to racehorse aftercare at LongRun Thoroughbred Retirement Society and supporting his community by volunteering with the "Out Of The Cold" program for the homeless. Statistically, Da Silva achieved 11,630 starts (2,286-1,914-1,567), and earnings of $102,764,264.
Court Vision —Thoroughbred Male Horse
One of the most talented and versatile colts of his generation, Court Vision was a multiple graded stakes winner on both dirt and turf at 2, and a grade 1 winner at 3, 4, and 5. His pedigree includes champion sprinter and classic sire ( Gulch), out of a sister to a classic winner and classic sire (Summer Squall) and the immediate family of AP Indy. Of his eight graded stakes, five came in grade 1 races, including the 2011 TVG Breeders' Cup Mile (G1T) and the 2010 Woodbine Mile (G1T)—his first of two appearances in that race. In a career consisting of 31 starts, he accumulated nine wins, four seconds, and four thirds, with total earnings of $3,746,658.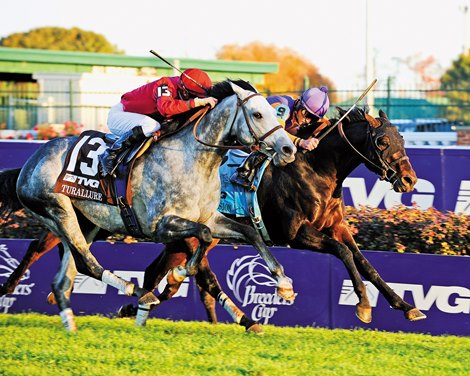 Court Vision (blinkers) wins the 2011 Breeders' Cup Mile at Churchill Downs
In 2012 Court Vision began his career as a sire in at Michael Byrne's Ontario-based Park Stud and he was Canada's leading freshman sire in 2015—both in earnings and stakes horses. Beginning in 2016 his stallion career continued in Kentucky and later in Louisiana. Among his stakes horses are 2019 TVG Breeders' Cup Juvenile (G1) winner and Eclipse champion, Storm the Court with 19 starts (2-2-3) and earnings of $1.38 million, and grade 2 winner Mr Havercamp with a record of 14 starts (8-1-0) and earnings of $679,558.
Alydeed — Thoroughbred Veteran
Bred by CHRHF 2015 Builder Inductee, Robert Anderson's Anderson Farms, Alydeed was sold as part of the Three Chimneys Farm consignment in the 1990 Keeneland September Yearling Sale to Can-Am Bloodstock Service. The son of English Two Thousand Guineas (G1) winner Shadeed, he was trained by CHRHF honored member Roger Attfield throughout his career. In his only start at age 2, Alydeed won the Victoria Stakes. The following year Alydeed developed into a prominent 3-year-old in both Canada and the United States with five victories in 10 starts, including the Derby Trial Stakes (G3) at Churchill Downs. He was also a close second in the Preakness Stakes (G1) to Pine Bluff. Returning to Canadian soil, he won the Marine, Plate Trial, and Queen's Plate in succession by a combined 22 1/2 lengths.
At 4 Alydeed's race success included wins in the Commonwealth Breeders' Cup Stakes (G3) at Keeneland and Carter Handicap (G1) at aqueduct. He concluded his racing career with a record of nine wins, two seconds, and two thirds from 18 starts and earnings of $930,689. He became Canada's leading sire in 2001.
This press release has been edited for content and style by BloodHorse Staff.
.